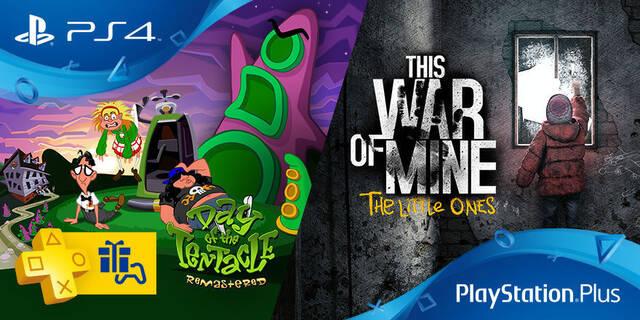 Sony ha desvelado los juegos que podrán descargar los usuarios de PlayStation Plus durante el próximo mes y que llegarán en enero, a partir del día 3. Este mes llegan juegos a PlayStation 4, PS Vita y PlayStation 3.
---Los juegos gratis para PS4
*Day of the Tentacle Remastered (PS4, PS Vita)
Esta revisión del juego original incluirá nuevos gráficos dibujados a mano y presentados en alta resolución, así como sonido remasterizado y una pista adicional de audio con comentarios de los creadores originales: Tim Schafer, Dave Grossman, Larry Ahern, Peter Chan, Peter McConnell y Clint Bajakian. Los aficionados podrán cambiar entre el estilo gráfico original y el nuevo con un solo botón. También podrán escoger entre la interfaz gráfica clásica original y una nueva. Como sucedía en el original, que incluía Maniac Mansion escondido en el juego, este también contará con la integración de la aventura gráfica en la gran mansión. Permitirá compra cruzada en las consolas de Sony
*This War of Mine: The Little Ones (PS4)
En This War Of Mine no jugaremos en el papel de un soldado de élite. En vez de eso, formaremos parte de un grupo de civiles que intenta sobrevivir en una ciudad asediada, luchando contra la escasez de comida, medicinas y en peligro constante ante los francotiradores y los carroñeros hostiles. Una de las principales novedades que traerá consigo esta versión es que nos ofrecerá una nueva perspectiva de esta cruel guerra: la de los niños.
---Los juegos gratis para PS3
Blazerush (PS3)
Se trata de un juego para PS3 de carreras y supervivencia sin salud, niveles y sin frenos. Podemos montarnos un equipo de amigos para jugar tanto de manera local o a través de internet, con hasta 4 jugadores en casa o hasta 8 a través de internet. Guarda multitud de pistas en tres planetas y 16 coches que conducir.
*The Swindle (PS3, PS4, PS Vita)
The Swindle es un juego que mezclará plataformas, acción y sigilo, todo con una jugabilidad clásica en 2D. En él tendremos que infiltrarnos dentro de diferentes edificios para piratear sus sistemas de seguridad y así poder robar todo el dinero que podamos, aunque una vez hecho esto, también nos tocará alcanzar la salida para darnos a la fuga.
Los juegos gratis para PSVITA
*Azkend 2 (PS4, PS Vita)
Azkend 2 es un juego de puzles de jugabilidad clásica, en el que tendremos que ir uniendo piezas y realizado distintas combinaciones con las mismas.
*Titan Souls (PS Vita, PS4)
Se trata de un desarrollo independiente para PS4 que busca recuperar la esencia de los juegos de aventura más clásicos apostando por la acción y la fantasía con un héroe enfrentado a un reto imposible, junto con un apartado gráfico propio de la época. Como héroes solitarios recorreremos ruinas ancestrales en busca de titanes armados con un simple arco y una sola flecha que podremos invocar de nuevo cuando nos enfrentemos a las 20 bestias que nos esperan guardando secretos arcanos.
Fuente: Vandal
Video: